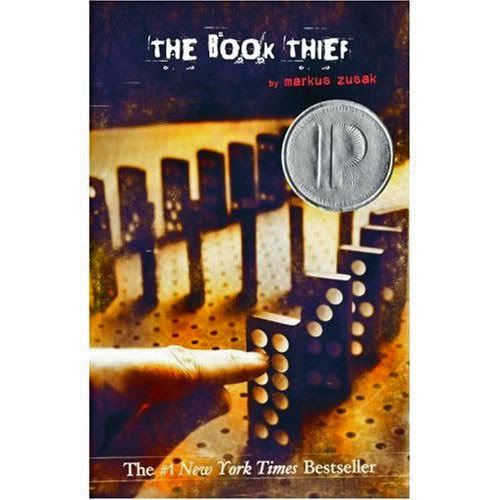 The Book Thief
:
Zusak, Markus. (2006). The Book Thief. New York: Knopf an imprint of Random House Children's books, 550 pp.
Genre: Fiction, Death and Dying
Awards: Kirkus Award 2006, Booklist Editor's Choice 2006, Printz Award 2007, ALA Best Books for Young Adults 2007
Markus Zusak's The Book Thief is the story of a German family during WWII who have taken in an orphan, Liesel, and Jew, Max Vandenburg. The story is narrated by Death. While taking her brother's soul, Death notices Liesel and takes a particular interest in her. Liesel's mother, a communist, gives Liesel to the Hubermann family in order to protect her from Nazi persecution. After becoming an official member of the Huberman family, Liesel is introduced to Max Vandenburg. Hans Hubermann, Liesel's foster father, had his life saved by Max's father in WWI and has agreed to hide Max from the Nazis.
Zusak's writing brings this story alive with astounding clarity and an almost lyrical command of prose. The plot of the story illustrates both the value of diversity and the power of the human soul. The Hubermann house is a virtual haven for outcasts. Both Hans and Rosa Hubermann stand as examples of human virtue facing off against the horrific and inhumane nature of the Nazi party. This conflict is highlighted by the omniscient narration of Death acting as the ultimate and elevated purveyor of fatality, a role that is ever present in Nazi Germany.
The story is excellent for adolescent readership. Liesel who has many difficulties with reading and is frequently embarrassed by her shortcomings is a perfect protagonist for any nervous reader in the classroom. Additionally, her drive to get better at reading causes her to go to extremes in order to attain more books to read. This drive results in her becoming the book thief. In this story, books work as objects which Nazi's fear because they contain knowledge. This is an invaluable point to make to emerging readers in the classroom. It not only shows the importance of reading but also the immense power of knowledge.
This book is also important for adolescent readers because it addresses the importance of diversity in culture. One of the central issues of this story is the importance of understanding and acceptance. For example, Liesel sees herself in Max and Max's struggle to survive. Both characters have lost their birth parents and been adopted by the Hubermanns. This type of acceptance is an essential lesson for adolescents who might be tempted to label certain individuals or groups as outcasts. Additionally, it shows adolescents who might feel like outcasts that there is always someone who will accept them. Equality is further expounded by the fact that Death accepts everyone.
Classroom Use: I would most likely use this novel as a read aloud. Its rich language rolls off the tongue and begs to be spoken. Additionally, the size of the book would make it a challenging read for many students' schedules and attention spans.
Appropriate Age Range: As a read aloud, this book is appropriate for age 12 and above. Otherwise, it would most likely be appreciated more by 15 and above.
This is a beautiful story. It absolutely captured my imagination. While it is labeled as teen literature, I found its language and literary quality to escape any labels. The sheer weight of creativity contained in this book is unparalleled, and I am certain that this book will have an extensive shelf life.
Brian Lee